SDN/NFV Industrial Popularization
BII Group plays a leading role in the establishment of China SDN Committee
On 6 December 2012, China SDN Committee was established, where BII played a leading role. The members of the Committee include scientific research institutions, operators, device manufacturers and large internet companies. With an extensive industrial chain, it combines enterprises, universities and research institutions. With emphasis on the exchange of SDN information and technologies around the world, the Committee integrates theory with practice, explores the development and evolution of relevant technical standards and develops future network technologies.
At the China SDN and Open Networking Summit 2012 on the same day, the opening ceremony of the Committee was held. Twelve member units, namely, Zhejiang University, Tsinghua University, BII, China Telecom Beijing Research Institute, Tencent, HUAWEI, ZTE, Digital China, H3C, Centec Networks, GreeNet and Ruijie Network collaboratively opened the curtain of the Committee. BII is responsible for the development, planning and secretary tasks of the Committee.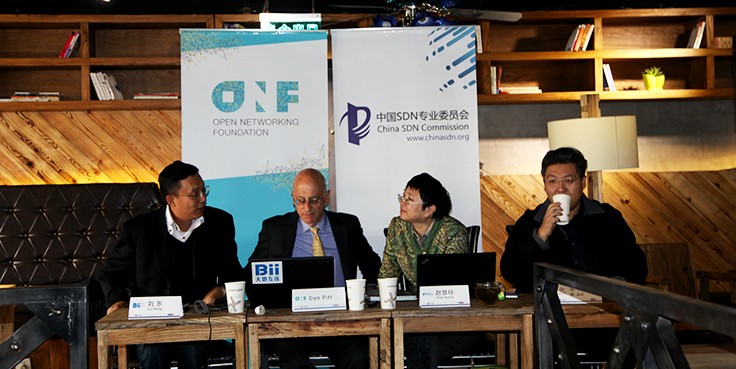 BII promotes industrial development and holds Global SDN and Open Network Summit
To spur SDN industrial development, BII cooperated with the ONF (Open Networking Foundation) and China SDN Committee to hold the Global SDN and Open Networking Summit. The summit aims to build an effective platform of SDN communication and boost the global development of the SDN industry in an overall way.
Since its establishment, Global SDN and Open Networking Summit has won favorable comments in the industry, expanded its bran d influence across the world and gradually evolved into a grand event in the development of the global SDN industry. In previous summits, a large quantity of top SDN experts got together to analyze and discuss SDN, a technology that has changed the network world, from such dimensions as industry, academia, device, testing, solution, standard and ultimate application. In this way, they have pushed forwards the communication in the global SDN industry, created a new revolution in the industry and jointly promoted the innovation and development of the industry.