International Innovation Center of Advanced Network was formally established
Global Network Technology Conference (GNTC) has been convened on November 14, 2018 at Nanjing. At the conference, BII cooperated with global industry experts, major network technical organizations, and industry enterprises to start the construction of the International Innovation Center of Advanced Network. The center will bring together global innovation strengths to launch technical cooperation broadly, drive R&D of advanced network technologies, and realize innovations and promotion of advanced network, so to jointly build a comprehensive industrial technology innovation platform.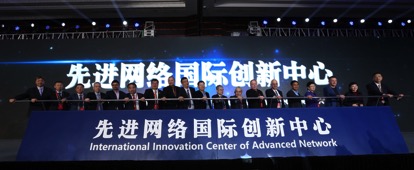 The Internet has become so embedded in human life that it is virtually touching every aspect of our day-to-day lives. The innovative development of network technologies has become a main driver of economic growth, and made the world grow smaller and more closely connected.
With the digital economic development, the antenna and boundary of the Internet have been continually extended from new frontier to new frontier, and the user needs are also inflated unprecedentedly. Meanwhile, accompanying the booming digital economy, the security, controllability, extensibility and expansibility and other aspects of the current network frame and the technology systems thereby constructed, are facing a series of big challenges. The top priority to cope them is to establish advanced network infrastructures that are capable to support sustainable development and propel economy progress. Fortunately, a network technological revolution featured openness and integration, and intergenerational transition has been accelerated in full swing in this context. IPv6, SDN, NFV, 5G, AI, Cloud, Internet of Things, Edge Computing and other leading network technologies have got innovated rapidly, various types of network projects and open source groups develop dramatically. More and more enterprises and organizations have joined in the development of advanced network technology innovation and rules. The "International Innovation Center of Advanced Network Center" is just established in this context.
"The International Innovation Center of Advanced Network" thinks globally, and by leading the development, promotion and application of cutting-edge technologies and key common technologies as the core, is aimed at pushing global collaboration to promote global disruptive innovation of advanced network technologies and build a comprehensive industrial technology innovation platform that is with a collection of innovative resources and a diversified structure. After the Center is established, it will focus on its future development, practically bring together international advanced technology organizations, R & D institutions and industry partners, and bring together global innovation resources, to enhance advanced technology exchanges and cooperation, and facilitate consensus, so to get to the commanding position in the field of global industrial technology innovation, and form an innovative and open international system of advanced international network innovation so to promote comprehensive development of advanced network technologies.
Liu Dong, Director of International Innovation Center of Advanced Network, BII Director has highlighted on the launching ceremony that Advanced Network International Innovation Center will think globally and focus on the research, standards, promotion , and applications for advanced network technology in future. The center will explore new models, promote new technologies, foster new types of business, cooperate with top technical organizations worldwide, converge international talents, and launch technical cooperation broadly, so as to drive the advanced network industry to realize innovation and benefit the world.