IEEE-SA Standards Board Appoints Liu Dong as a New Board Member
In December, 2017, IEEE (Institute of Electrical and Electronics Engineers) officially appointed Liu Dong, president and CEO of BII Group, as IEEE-SA Standards Board member. The mandate starts from January 1, 2018 and Liu Dong is responsible for the initiation, approval and review of IEEE International standards. Liu Dong has served as board member of IEEE-SA from 2016 to 2017, fully participating in the strategic decision-making and operation management of IEEE Standard Association. In the future, Liu Dong will not only participates in the operation of IEEE Standards Association, but also delves into the core development and formulation of IEEE Standards, including approving the launch of IEEE Standards project, reviewing it to reach a consensus, issuing Chinese voice at the core of global standardization, and helping Chinese standards to go global.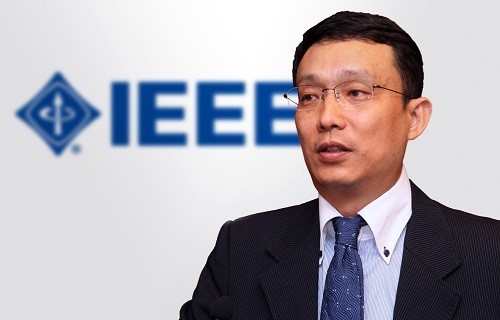 Picture: Liu Dong, IEEE-SA Standards Board Member, president and CEO of BII Group
IEEE is the globally best-renowned and largest non-profit multinational organization of standardization and academics in electronics, electrics, computer, communication, and automation engineering, extending into 160 countries networking with 420 thousand members, and it is the most important innovation-driving force in information technology. The standards formulated by IEEE range from information technology, communication and electrics to energy, and has become the core source of the standards in emerging realms, especially the international standards for internet+. At present, IEEE-SA has formulated over 900 international standards currently in effect. As IEEE-SA standards board member, Liu Dong is not only highly recognized by IEEE on China's technical innovation and international standardization, but also an embodiment of the influence of Chinese power in the field of international standardization. IEEE-SA standards board is the core management department of IEEE Standard Affairs, responsible for coordinating and promoting the formulation and revision of IEEE standards, guiding and promoting the proposal submission, initiation review, process negotiation, patent review and resolution approval of IEEE standard projects, with important discourse and decision-making power.
Liu Dong, president and CEO of BII Group is long dedicated to research and promotion of standards. Throughout years, BII Group, led by Liu Dong, is active in international standardization, and engage itself in the extensive cooperation and exchanges with IEEE, ISO, IEC and IETF and other international standardization organizations, which has enabled it to create new standard systems and norms in many fields. In addition, Liu Dong is also actively promoting industrialization of standards, makes contribution to testing, certificating and commercial deployment, and propels the standards to be put into practice and the synergetic innovation of commercial models.
Liu Dong said: "China's enterprises should have not been satisfied with their own innovation, more began to go to the world and entered various international standards organizations to lead the direction of related technologies and contribute Chinese program to the world." Standardization strategy is the key to the development of enterprises and even the industry, playing an important role in the direction of the trend, product deployment, key technology to conquer and so on. Countless engineers make contribution to the relevant areas silently, and the pioneer is bound to be in the lead."
China's "13th Five-Year Plan" put forward the development concept of "being innovative, coordinated, green, open and shared". Under the driving of innovation, China has made rapid progress in international standardization, and standardization has become the basic guarantee of leading quality improvement, optimizing industrial structure, guaranteeing the improvement of people's livelihood, serving the urban construction and management and playing an increasingly important role in standard formulation and expansion, especially the frontier technology areas in 5G, network security, big data, cloud computing and artificial intelligence. Liu Dong's appointment as the IEEE-SA Standards Board member plays an important part in driving China's international standardization strategy. China's experts and related institutions will also extensively participate in international standard-setting and standardization promotion and strengthen China's discourse power through this bridge.