China Unicom and the BII Next Generation Internet Joint Lab was established, Director Liu Dong attended the signing ceremony
On August 30, 2017, China Unicom held the "Ceremony of Unveiling of Hengqin Research Institute and Partnership Establishment" in Hengqin, Zhuhai, announcing that China Unicom and the BII Next Generation Internet Joint Lab is established in the very day. Mr. Liu Dong, chairman of the BII Group and director of the Next Generation Internet Engineering Center attended the ceremony that officially opens the cooperation.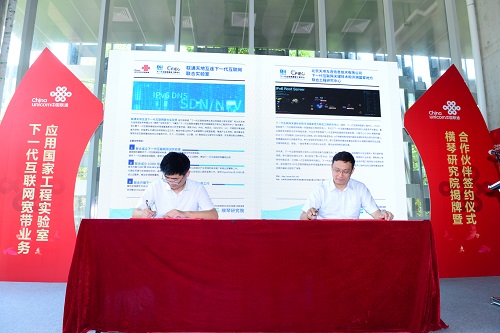 The joint laboratory will bring together the experts and scholars who are with most influences in the next generation of Internet basic technology. It will focus on the fields of DNS, IPv6, SDN / NFV, IoT, telecom cloud and open source software, to lead the OS community development and certification, to promote development of China's CORD industry alliance and other industry alliances, and enhance industrial dominance; and jointly construct a world's leading public service platform of Internet basic technologies, and provide platform services for the next generation of Internet, cloud computing, IoT and other related enterprises, and support innovation business incubation.
Recent projects of the laboratory include:
1. Jointly to set up the next generation Internet test laboratory
Track the latest generation of Internet technology standards, constantly update and improve the test platform and system; provide next-generation Internet testing services, and provide IPv6 Ready / Enabled and other related authentication services to promote deployment and application of the next generation Internet.
2. Jointly to set up the CORD laboratory
Jointly carry out research and development of SDD / NFV technologies such as CORD, international standard / test planning and technology promotion and commercial deployment for the industry; cooperate with international open source and standard organizations to develop standards and specifications, construct certification system and develop test tools, and provide OpenFlow and CORD test certification services to promote global network refactoring.
3. Jointly carry out research and operation of next generation Internet IPv6 DNS system
Provide the IPv6 public DNS services for the globe, accelerate deployment and operation of IPv6 root server; jointly promote application pilot and large-scale deployment of the IPv6 DNS system in the Internet + ;