Liu Dong: Openness+ Open Source Will Stir a New Wave of SDNFV Innovation
In June 2016, Liu Dong, chair of the Global SDNFV Tech Conference, IEEE-SA BOD member and president & CEO of BII Group said in an interview that the emergence of SDN and network virtualization has ushered in a new era of infrastructure meaning service for the whole industry. The barriers of different datacenters are no longer tight and tough and network channels are more flexible, and that openness and open source standardization will surely lower the threshold of accession into the market, to galvanize a new wave of application service innovation.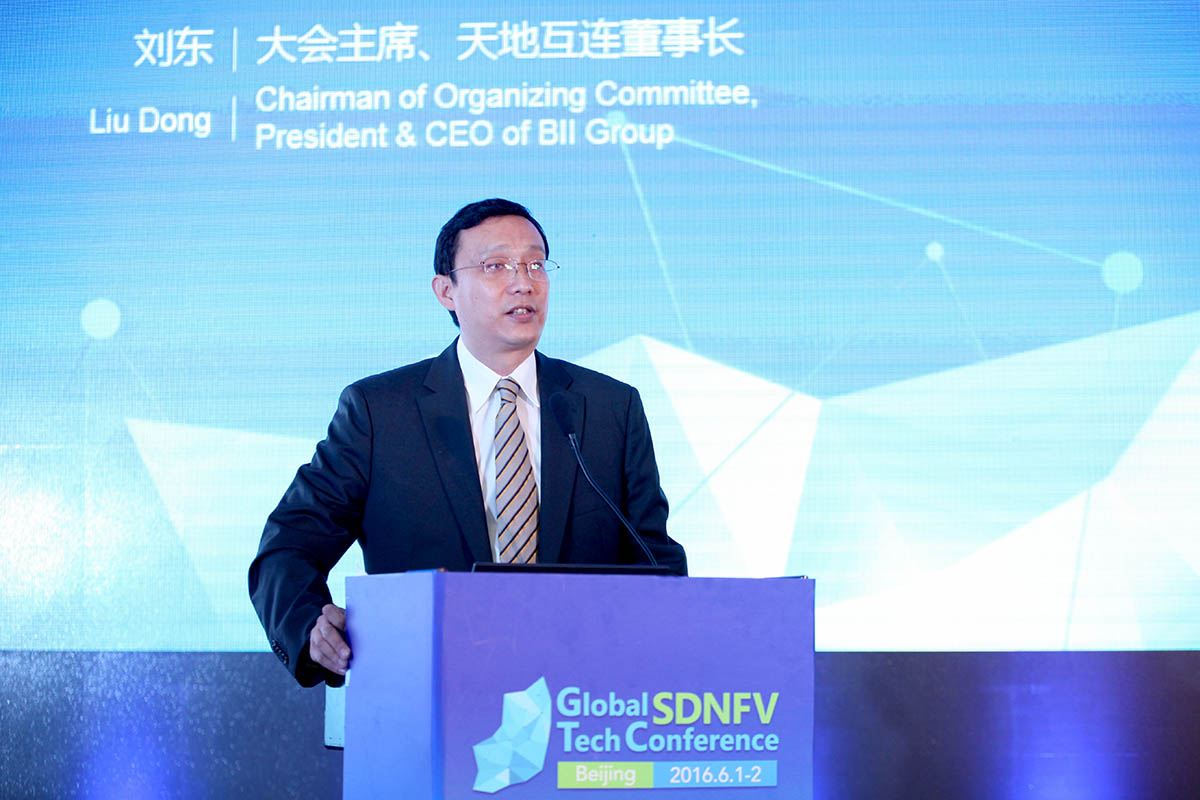 Liu Dong IEEE-SA BOD member and President & CEO of BII addresses the 2016 Global SDNFV Tech Conference
On the potential development in the sector of SDNFV, Liu Dong says that over recent years, networks are becoming increasingly complex and larger, against which background, SDN/NFV will make networks run better. On one hand, it can reduce costs, and on the other, it can boost performance and security. Four years ago when SDN was first introduced at the first Global SDN tech conference, people were talking about what SDN was, what the other countries do, how we should be part of it……The second and third conferences had already seen many matured products from many vendors, and the important thing for the matured products is to keep the interoperability and consistency between the products. At that time we established a test and certificating lab: Global SDN Certified Testing Center (SDNCTC) hosted a SDN PlugFest. Last year, we had Huwei, ZTE, H3C, etc. included in the ten devices that have passed testing and certificating. The products are not only sold in China, but beyond, with wide application. This year, the Conference had more than 1500 attendees, where SDNFV organizations and entities gathered to share their application cases. SDN and NFV entered critical phase of commercial deployment and the major carriers, cloud datacenters and Internet companies are now in the process of SDN and NFV analysis and deployment to provide better and more flexible service of high quality over lower cost.
On the innovation of SDNFV in China, Liu Dong said that network has no boundary with tech and standards hand in hand. Chinese enterprises should not rest comfortably on its independent innovation, but throw themselves into the world, engage themselves in various international organizations and guide the relevant tech trends. In modern networks, openness and open source have become the mainstream, engineers beyond count make contribution to their own fields without spotlight on them, but the vanguards will surely take the lead in each of their moves. In an organization like ONF, over ten Chinese enterprises actively take part in standardization, whose output tech and standards not only are applied at home but also well received across the world, which bellwethers the global development.
Future network is a definable network that can integrate software and hardware. No matter it is SDN or NFV, it is an important part of future network, which will no doubt ooze its glory in high speed broadband, 5G, IoT, etc. Liu Dong said in the end that conventional infrastructures are now on a fast track of revolutions. SDN/NFV will enter a golden era, and he hoped that those in the industry can share the same goal and devote concerted efforts to establish a more secure and more reliable future network with era-leading performance to benefit mankind.