LIU Dong: Future Network is the Pressing Priority
At present, internet has penetrated development across society and economy and extended into every corner of public life, against the background that China has become the one that has the largest connected population in the world, as a result of which, internet development has become the key to development in society. Mr. Liu Dong, President & CEO of Beijing Internet Institute, President & CEO of BII Group, Member of the IEEE-SA Board of Governors highlighted while addressing the audience that "better future network infrastructure to be developed to make internet truly benefit everyone" at the 2015 (fifth) China Future Network Development and Innovation Forum (the Forum) jointly hosted on December 10th and 11th by Chinese Academy of Engineering and Nanjing Municipal Government.
The Forum was co-hosted by Chinese Academy of Engineering and Nanjing Municipal Government and jointly co-organized by Jiangsu Future Networks Innovation Research Institute and Beijing Internet Institute, under the theme of Construction of Future Network Experiment Infrastructure, Promotion of Network Development and Innovation, where academicians from CAE, persons responsible for future networks in North America, Europe and Japan, top-notch experts in IT, and representatives from mainstream carriers both at home and abroad, well-known dot-coms and advanced device vendors discussed the prospect of development and application of future networks and its technological trend through keynote speeches, academic exchanges and product demonstrations.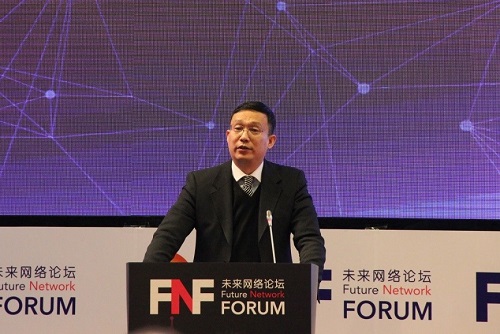 Liu Dong, President & CEO of BII Group, addresses the opening ceremony of the Forum
Refer to the following text for the whole address delivered by Mr. Liu Dong
I can recall that at this very moment one year ago and at the same venue, many an elite in the sector of networks got together here to contribute to the future network forum with their know-how in development of future networks. One year later, we are pleased to see that a swelling pride of enterprises, organizations and fellow colleagues in the industry are present here and engage themselves in the discussion. I think all of you share a common goal that we build a better future network infrastructure to make internet truly benefit everyone.
As China's Internet+ strategy is deepening, information technology achievements represented by internet find their way deeper into each corner of our economic and social life. Internet of Energy, Internet of Finance, Internet of Agriculture, industrial internet, etc. keep refreshing our industry with more profound influence on our production and life. It is right due to the strong influence of internet that we must keep an eye on the potential challenges while enjoying the current tranquility and that we must identify many drawbacks in scalability, security, manageability, controllability, green energy conservation, etc. In this era marked by everything connected, it is our pressing priority to build an open, easy-to-use, sustainably developing, stronger and more secure future network, which is a critical thing that matters to national prosperity and civil well-being. This needs more men and women with the shared vision to build future network infrastructure and promote network development and innovation.
China, as the largest country of internet in the world, will attach more importance to development of future networks, in which governments at all levels, academia, industry, research bodies and mainstream enterprises that apply the future networks should accelerate the R&D and deployment. We can see that the team led by Liu Yunjie, academician of CAE, has actively devoted themselves into the research on future network infrastructure. At the same time, H3C, Huawei, ZTE etc. are also active in the deployment of future networks, with more support to SDN OpenFlow-standardized products available on the market. Today, we can see that China Telecom, China Unicom and China Mobile and Tencent, Alibaba, baidu and other internet corporations increase their presence in deploying future networks featured by the core technology-SDN. Future networks has stricken its root in China and will sprout out to become a sky-touching tree in the future.
Surely, we must realize that in a world riding the trend of globalization, the future network with our committed efforts, is neither only China's nor any other country's, but is shared across the whole world and is the one that can better connect the globe. It is right because of this, the future network, in comparison with the conventional networks, more needs global coordination to facilitate fast integration through technological compatibility and international standardization. Nowadays, experts at home and abroad from ONF, OpenDaylight, On.Lab, GENI, FIRE and SINET get together here, which means that we have the concerted target that we can build future networks that can truly benefit humanity.