Breakthrough—Performance Test White Paper for SDN Controller Issued
Recently, BII-Global SDN Certified Testing Center (www.sdnctc.com) issued the Performance Test White Paper for SDN Controller (hereinafter Whitepaper) at China Future Network and Development Innovation Forum, which truly fills the vacuum in SDN controller performance testing at home. It, by means of elaborate results from the open-source controller tests, provides reliable analysis report to all corners within the industry, which has been highly thought of and widely supported by experts both at home and broad.
Riding the wave of the incessantly maturing SDN industry and supported by the ever-improving southward port OpenFlow protocols, SDN controllers, as the core components for the future network architecture, has now run into a bottleneck of performance, which hinders the SDN development. How we come up with norms that guide the SDN controller performance tests and how we effectively put it to practice have long been the shared concern across the industry. The Whitepaper elaborates the establishment of SDN controller performance test platform, methodologies of performance tests, analysis of test results, and predictive research of performance, and the procedure of normalized SDN controller performance tests to the whole industry, which justifies the choices of high-performance SDN controllers made by carriers.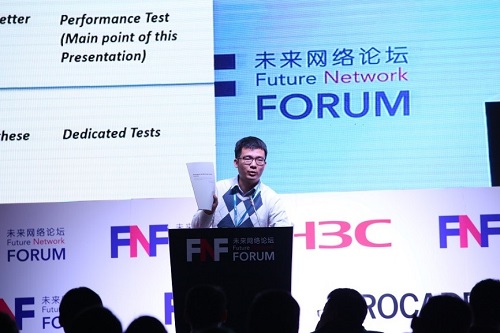 ZHANG Pan, Vice Chair of ONF Test & Interop Working Group, Senior engineer of SDNCTC
ZHANG Pan, Vice Chair of ONF Test & Interop Working Group, Senior engineer of SDNCTC, during the issuing ceremony of the Whitepaper, used the three typical SDN performance tests of the mainstream open-source controllers on specific platforms and analyzed various test methodologies and compared the graphic results of the tests to demonstrate it is imperative to conduct the performance tests of a core network device in the future—SDN controllers. Zhang Pan pointed out that on top of the performance tests, the security tests of SDN controllers will also magnetize the public attention. In the future networks, the case design of SDN security tests, the implementation of the test methodologies and result analysis of tests will also be included in the further reports of controller tests. Through the comprehensive consideration of the SDN controller performance and security, more comprehensive and more meticulously designed SDN networks will be available to serve the need of SDN commercial deployment.
At the future network forum, on top of the Whitepaper issued on site to which intensive attention gravitated, there were also the first OpenFlow v1.3 conformant products (led by SDNCTC) in China and the award ceremony on site, widely praised by the industry. It can be said that the SDNCTC, as a third party and neutral SDN/NFV testing and certificating lab, assumes the responsibilities of formulating the norms of SDN/NFV tests, technological R&D of SDN/NFV, testing and certificating and deployment and that it also provides authoritative testing and certificating service to promote the consummate integration between technology and products.
To download the Whitepaper, please visit:
http://www.sdnctc.com/public/download/Performance.pdf