First OpenFlow 1.3 certificated products announced to accelerate development in SDN market
Recently, Ceremony of First OpenFlow v1.3 Conformant Products in China was successfully held at China Future Network Development and Innovation Forum, where Dan Pitt, executive director of ONF and Mr. LI Zhen, director of BII-Global SDN Testing and Certificating Center, awarded the OpenFlow 1.3 Protocol Consistency Certificates to representatives from Huawei, ZTE, H3C and DCN that eleven SDN devices from the above vendors had been the first products that had passed the OpenFlow 1.3 Consistency Certificating.
Dan Pitt awards the OpenFlow 1.3 Protocol Consistency Certificate to an enterprise representative
All the certificated products were tested at the BII-SDNCTC where the official testing tool OFsuite of ONF provided support. The test process was strictly reviewed by more than ten internal experts of ONF, whose confirmation of the complete conformity of the products to the testing requirements is the prerequisite to awarding the certificates. The certificates represent the leading edge that certificated vendors have and the wide recognition from the market of the OpenFlow protocol.
According to Dan Pitt, executive director of ONF, at the award ceremony, it is an important day today, we together witness 11 products from Huawei, ZTE, H3C and DCN have passed OpenFlow 1.3 Consistency Certificating and become the first OpenFlow 1.3 certificated products in China. One of the critical aims that OpenFlow Consistency Certificating has is to nurture the market's confidence and encourage consumers to purchase the certificated products. At present, we are drawing near to the target. I firmly believe that in the future there will be an increasing number of vendors involved, and I hope that the SDN market will flourish further with our shared efforts.
On top of the award ceremony, all the certificated products and various products currently under test are collectively demonstrated at the exhibition section during the forum. More than one thousand viewers and engineers from both SDNCTC and all vendors compared notes and interacted with each other on site to discuss the related technology and industrial development.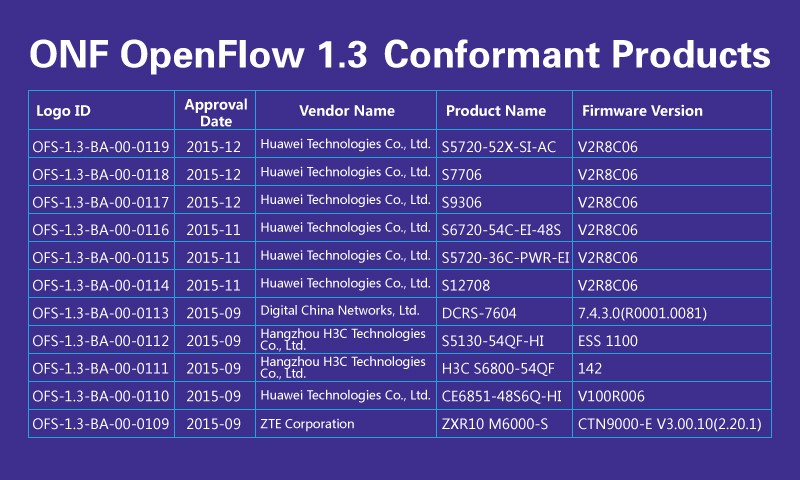 Information of the first certificated products
China's first certificated products stand for the maturity of OpenFlow 1.3, and related products can immediately launched into the market, which brings the SDN industry a step further. Purchasing the certificated products greatly facilitates the deployment and maintenance of network users. The official announcement of the first certificated products lays a firm foundation for popularity of OpenFlow and development of SDN. In the future, more certificated products are expected on the market to drive the SDN ecosystem development and industrial maturity both at home and abroad. Please refer to http://www.sdnctc.com/en/ for more information.