Future Network Forum to be held in Nanjing in December 2015
Between December 10th and 11th 2015, the China Future Network Development and Innovation Forum, jointly hosted by the Chinese Academy of Engineering and the Nanjing Municipal Government, is scheduled to be held in Nanjing, Jiangsu, China. The forum will be jointly organized by Jiangsu Future Networks Innovation Institute and Beijing Internet Institute, with the theme of "Building future network test facilities and promoting network development & innovation", and it will invite nearly a hundred industrial experts at home and abroad, to establish a platform marked by security, innovation, openness, cooperation where the policy, industry, academics, and application are integrated.
As an annually-held industrial gala of future networks, SDN, NFV, etc., this forum of future network will be well attended by elites from carriers, vendors, user enterprises, agencies and colleges, who will deliver their speeches, contribute to the summit conversations, make themselves heard at round-table conferences, attend on-site exhibitions, and join in the featured events, to hold in-depth discussion on the burning issues of challenges and counter-policies of current network, the experiment deployment of future network, and SDN/NFV technological and industrial development.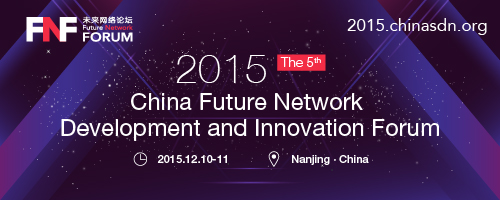 Focus on the burning issues: Stick to the core technologies of future network well-contributed by nearly hundred excellent reports and speeches.
The internet has been around for more than four decades, giving a critical impetus to the global development. However, with the challenges looming large in terms of scalability, security, mobility, energy-consumption, and service quality, the gradual improvement and bandwidth extension cannot further meet the demand of future development. Against the background, the future network sustainable development with the core of SDN/NFV has become the gravitational center of global attention.
In order to analyze the burning issues of future network, apart from the keynote speeches, the forum specially scheduled "future network summit dialogues", "SDN/NFV technological and industrial development forum" "round-table talk", "symposium on future network infrastructure", "academic forum", "industrial report release", etc. to share the know-how and opinions on the pain points of current industrial development and experience and grasp the industrial and technological development trend amid practices and exchanges.
Well-starred by distinguished experts: academicians of CAE with leaders of overseas agencies, lode-star for the industrial trend.
Each of the previous future network forum is industrially well famed by its legion of experts on profound and far-reaching topics. This forum is unprecedented in terms of the number of experts and industrial involvement.
It is learned that the forum is supported by CAE, Nanjing municipal government, ONF, IAB, ETSI, LINUX foundation, China Communications Industry Association, and other authoritative agencies at home and abroad. The forum will also invite Larry Roberts, father of internet and founder of ARPANET, and Vint Cerf, designer of TCP/IP, Dan Pitt, executive director of ONF, Steven Wright, ETSI NFV chair, Chen Zuoning, deputy dean of CAE, Wu Hequan, academician of CAE, Zhou Hongren, deputy director of Advisory Committee for State Informatization, founder of China's internet Qian Hualin and so forth. The leaders and representatives from NDRC, MIIT, office of cyberspace affairs, Ministry of Education, Ministry of Science and Technology and the Jiangsu province, along with the representatives from carriers, vendors, investors, dot-coms, will attend the forum, which enables the forum to reach the whole industrial chain of future network.
It should be noted that the "Global Future Network Summit Dialogue" has drawn intensive attention from the industry. The academicians of CAE, including Wu Hequan, Liu Yunjie, Li Guojie, and Wu Manqing will have conversations with Andrew Sullivan, chair of IAB, Dan Pitt, and Guru Parulkar, exective director of ON.Lab in the forum. It can be expected that the summit will surely feature an exchange of great ideas, which even influences the future development and promotes the industrial innovation and development.
Diversified forms: Featured events as a comprehensive industrial platform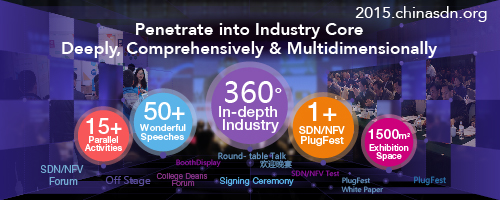 On top of the speeches at the venue, the forum has also many featured events, such as Plugfest tests, Dissemination station, Showcase, VIP welcoming banquet, white paper release, etc. to establish a platform for top-notch exchanges.
Before the meeting, the Global SDN Certified Testing Center will host a week-long "2015 Winter SDN Plugfest Test", where the SDN/NFV devices and solutions can be tested. It will also be a technological exchanges platform to enhance the standardization and interoperability of devices and further boost the development and deployment of SDN/NFV industry. During the conference, the Global SDN Certified Testing Center will devote concerted efforts with the organizing committee to showcase the on-site Plugfest, where the audience can have their hands-on experience.
Free registration: Let's roll now! Register for free and submit your application.
The forum, under the banner of propelling the future network and SDN development, will be made available for registration for free from now. Anyone that register in advance can enjoy free presence at the meeting. Whether you are carriers, government/user enterprises, hardware/software vendors, chip makers, end device manufacturers, dot-coms, research institutes, or investment agencies, you can register for the gala of industrial exchanges.
Meanwhile, in order to promote the industrial development, the committee also provides the free booths for start-ups for their showcase, to let more enterprises exhibit their brand and features. For more information on the forum, please visit 2015.chinasdn.org.