Global IPv6 & Next Generation Internet Summit: IPv6 becomes internet+ foundation stone, boosts achieve IoT
7th Sep 2015,"Global IPv6 & Next Generation Internet Summit" grandly opened. IPv6 Forum and BII GROUP hold this summit, with the theme—IPv6 Era is Around the Corner, Are You Ready? Vice President of Google & Father of Internet Vint Cerf, President & CEO of ICANN Fadi Chehadé, Director General of APNIC Paul Wilson, ICANN Board & DNSOP WG Chair Suzanne Woolf etc. many industry leading experts, hundreds of global operators representatives, industry representatives of well-known manufacturers, academic institutions, the user enterprises and many authoritative medias joint participant, They have heated discussion on focus topics like "Technological focus of IPv6 large-scale deployment and mainstream programs", "IPv6 development to the impacts and challenges of network security", "IPv6 boosts the Internet of Everything" ect.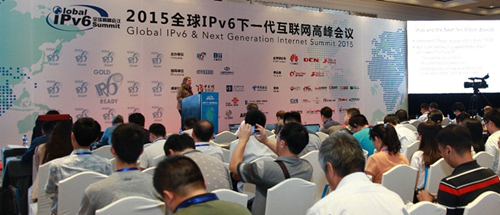 IPv6 Summit Conference Room Panorama
General trend——"Internet+" Boosts IPv6 Full Speed Move Forward
As an industry summit that successfully held 15 times, IPv6 Summit has been the most authoritative flagship event of Next-Generation Internet in China, even in the world. Each Summit theme was close to industry hotspot, leaded next-generation development direction. In this summit, Under "Internet+" policy background IPv6 development and trend become an important topic.
President of BII Group & Chair of Conference Liu Dong
President of BII Group and Chair of Conference Liu Dong said, "China's Internet development is in a rare strategic opportunity, when the Internet + era comes, the exchange and sharing of information between people and people, people and objects, objects and objects make the pressure of the Internet based resources and technology will be unprecedented strong. IPv6 will not just a solution to the depletion of IPv4 address, but also the important support for the next generation of Internet. In this process, government and related organizations need to develop policy guidance, operators, equipment providers and Internet content providers need to actively respond, but also need to work together to build a good environment for the development of Internet, so that IPv6 for the Internet of things, mobile Internet, Internet + and other industries to provide a wide range of security and end to end of the security of the Internet, make Address of Everything, Internet of Everything"
Vice President of Google and Father of Internet Vint Cerf emphasized IPv6 will play an important role in Internet of things development, and encourage people accumulate IPv6 using experience and usage, boost IPv4 to IPv6 transform, make IPv6 as easy to use as IPv4 and widely used like IPv4 finally. He said, "Internet of things development key point is to connect large number of device with other device and online service, this requires IPv6 provide great address space. "
Deep Deployment——IPv6 Industry Deployment Speed up
Since the beginning of the 21st Century, the IPv6 began a global deployment and business processes, and now also achieved considerable results.
In this IPv6 summit, numerous operators represent respectively introduces the progress of the major operators in the commercial deployment of IPv6, including Director of Cloud Computing Research Center of China Telecom Zhao Huiling, Chief Scientist of China Unicom Fu Chengpeng, Technical Manager of Bearing Network in Network Department of China Mobile Research Institute Huang Lu, CTO of Cernewtech Li Xinman, Researcher of IPv6 Testing Lab of Chunghwa Telecom Research Institute Qiu Wande etc. Director of Cloud Computing Research Center of China Telecom Zhao Huiling said in her speech that in the next generation of Internet industry chain, the hope is not only the operators network, including content providers, terminal manufacturers and other industry sectors are able to fully play a positive, and jointly promote the development of the next generation of Internet and terminal."
At the same time, Huawei, Digital China, ZED-3, Cernewtechn, Keio University, Tsinghua University and other IPv6 vendors and research first, the authority of experts shared their application situation in IPv6 and physical networking, wireless technology.
In addition, research of IPv6 root server system has become the focus of the field. The Chief Architect of BII Lab Kerr Shane introduced Yeti DNS Project, a next generation internet (IPv6) root server testing and experimental operation project based on the brand-new technical architecture. Yeti DNS Project will provide a good foundation for the development of the next generation of infrastructure solutions and operational data support. In addition, ICANN Board & DNSOP WG Chair Woolf Suzanne, Founder of ISC, 2014 Internet Hall of Fame Paul Vixie took" Naming, Addressing, Labeling System for Next Generation Internet" and " IPv6 DNS Mistakes and Opportunities" as speech theme.
Technology landing——IPv6 Ready ShowCase
The summit also hosted the IPv6 Ready ShowCase, through the device testing, network experience, industry reports, exhibition and display dimensions of IPv6. Huawei, ZTE, Ruijie, H3C, Neusoft and dozens of domestic and well-known manufacturers have passed IPv6 ready certification of the equipment displayed at the site, provides a comprehensive and intuitive understanding IPv6 technology status and development direction for the attending audience and manufacturers.
In addition, the director of Global IPv6 Testing Center Li Zhen announced the release of the Whitepaper on IPv6 Support 2015 and the official website of the IPv6 Education (www.trainingipv6.com) formally launched at the summit. Whitepaper on IPv6 Support 2015 through a number of test results to demonstrate the current situation of the next generation of Internet market, vacancies and major opportunities. IPv6 network engineer certification is sponsored by IPv6 Forum including silver, gold and security, which designed to encourage and accelerate the progress of IPv6 education and training, training more and more IPv6 professionals, and thus effectively promote the global IPv6 deployment and application.
Moreover, the IPv6 network has also been successfully conducted on the site of IPv6 Ready ShowCase. Hundreds of spectators experienced the efficient and convenient of the IPv6 network. In order to solve the problem that most of the sites do not support IPv6 access, engineers have deployed IPv6 testing center MIG IPv6 equipment and NAT64 & DNS64. IPv4 resources will quickly migrate to the IPv6 platform to solve the IPv6 resource poor pain points.
Internet has become one of the important infrastructures of human survival and development; the progress of technology and the growth in demand will increase the demand for the Internet. In the "Internet +" and a series of Internet policy background support, as the next generation of Internet based resources of the IPv6 is bound to play a crucial role in the progress of the future. Traditional enterprises should seize the next generation of Internet, IPv6 and other new generation of Internet technology, promote the integration of traditional industries and information technology, innovation based on the application of IPv6 services, foster the development of new business, new formats...