ONF officially releases first batch of OpenFlow v1.3  Certificates in the world
On Sept. 8, 2015, Dan Pitt, the Executive Director of Open Networking Foundation (ONF) in California, the United States, announced on ONF Member Workday, that five types of SDN switches produced by Huawei, ZTE, H3C and DCN had passed OpenFlow v1.3 conformance test implemented in BII Group-Global SDN Certified Testing Center (SDNCTC, www.sdnctc.com/en) of, and that they became the first batch of equipment passing OpenFlow v1.3 conformance test, which pioneering the industry.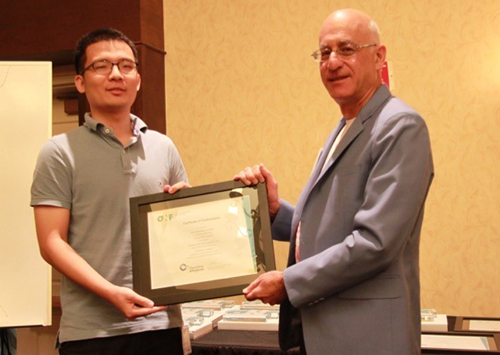 Photo: ONF Executive Director Dan Pitt and Vice chair of ONF Testing & interop Working Group, senior engineer of SDNCTC Zhang Pan jointly issued OpenFlow v1.3 Certificate of Conformance
In recent years, as a new kind of network innovation framework, software defined network (SDN) is considered as an important direction for the next-generation network revolution. The market acceptance of OpenFlow, as southbound interface protocol standard of SDN, also increases rapidly. ONF Certificate of Conformance, as the unique certificate to determine if testing equipment conforms to OpenFlow standard in current SDN market, is consistently recognized by the professionals within industry. The acquisition of test certification can shorten product development cycle, enhance the confidence of users, accelerate product deployment and promote competitive advantages in market. At this time, as the first batch of switches obtaining ONF Certificate of Conformance in the world, Huawei CE6851-48S6Q-HI, ZTE ZXR10 M6000-S, H3C S6800, H3C S5130 and DCN DCRS-7604 will undoubtedly promote the maturity of global SDN industry and accelerate application process of SDN.

Photo: LOGO of OFsuite test tool
It's worth mentioning that all of the OpenFlow v1.3 conformance tests are finished under the support of OFsuite, official test tool of ONF. Guided by Global SDN Certified Testing Center, OFsuite is the first test tool in the world completely covering ONF OpenFlow v1.3 test specification. It can offer comprehensive support for automated test against equipment applying for OpenFlow v1.3 Certificate of Conformance. Besides, with abundant monitoring and diagnostic features of OFsuite, it's convenient to modify and upgrade the equipment during test.
According to Mr. Li Zhen, director of the SDNCTC, "The first batch of the product certificating of ONF OpenFlow v1.3 flashes a signal that SDN product standardization has made a solid stride forward, and that the SDN products are ready to be deployed. Five devices from four vendors in China have been globally first certified by OpenFlow v1.3, which is the achievement brought about through the efforts by the coordination and collaboration between China SDN commission, and this has established an example for the global SDN industry. In the future, we will see more OpenFlow v1.3 certified products available on the market, giving an impetus to the development and improvement of the whole ecosystem across the entire industry."
Global SDN Certified Testing Center (SDNCTC)
The SDNCTC (www.sdnctc.com/en) is a third party and neutral SDN/NFV testing and certificating agency, dedicated to the technical R&D of SDN/NFV, testing and certificating, and deployment and promotion. The SDNCTC and ONF SDN/NFV international standardization organizations work together to lead the efforts of formulating standards, construction of certificating, and R&D of testing tools. And at the same time, it provides authoritative and neutral testing and certificating service, promotes the improvement of technologies and products, and safeguards the commercial deployment of SDN/NFV.
Open Networking Foundation
It was co-founded by Deutsche Telekom, Facebook, Google, Microsoft, Verizon, and Yahoo!. As a fast-growing non-profit organization, ONF has already 140 plus members, with the shared commission of accelerating the deployment of open SDN. ONF promotes open SDN and the OpenFlow technical standards, and boosts the development of products, service, application, customer and user markets.