Global Future Network and SDN Technology Conference Convened in Beijing— Future Network with SDN at the core not far away
On May 18th and 19th 2015, 2015 Global Future Network and SDN Technology Conference was successfully held in Beijing, organized by BII Group Holdings, Co., Ltd. Mr. Liu Yunjie, academician of CAE, Mr. Dan Pitt, Executive president of ONF, Mr. Latif Ladid,Chair of the Global 5G Alliance, Mr. David Conrad, CTO of ICANN, Mr. Andrew Sullivan, Chair of IAB, Mr. Richard Yang, Professor at Yale University, and other top-notch experts from SDN/NFV, held in-depth discussion on the current network challenges and counterplans, potential trend of network technology development, and future direction of SDN open network, etc.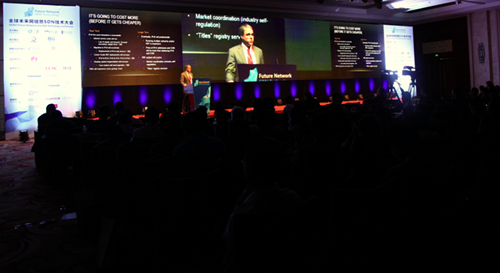 On-site Scene at the Conference
In fact, as the network communication technology and computer technology are booming, 'Internet Plus' strategy, triple-net integration, cloud computing and other emerging industries have soaring demand on scalability, security, controllability and manageability of internet, and the existing architecture is doomed to fail the future development of network. SDN/NFV, as a new network architecture, has promoted software-orientation and virtualization, which can navigate all the barriers in network, and has become an important trend and feature of future network infrastructure. It can be said that SDN/NFV means the future network development.
Mr. Liu Yunjie, academician of CAE, said at the conference that the current network problems and future demand of network must not be neglected, and there is no other way for us to go. Only with concerted efforts and by exploring the future need, can the current problems be solved. Or the application and development of internet will be bottlenecked. The advent of SDN makes the whole network easier. Although it is subject to many potential changes, the future of SDN is irreplaceable.
Dan Pitt also stressed during his video address that SDN is available for any network carriers all over the world. He said that more and more carriers was deploying testing projects based on open SDN and providing some service. ONF is now dedicated to extending into SDN application layer, and trying to make SDN closer to daily lives, by which, the carriers can have true operating systems. In January, ONF, in cooperation with BII, launched the "Open SDN Promotion Center", because SDN is developing faster than in the rest of the world.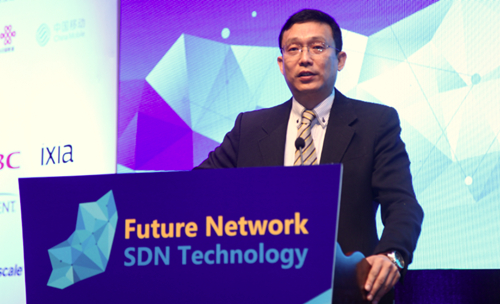 Mr. Liu Dong is addressing the audience
There is no doubt that SDN—a concept that burgeoned on campus—is now approaching us. As Mr. Liu Dong, chair of the conference and CEO of BII, said, "The era of internet of things has ushered in a brand new situation of public innovation and ubiquitous startups. We need SDN technology to support our future network. Facing 'Internet Plus' strategy generated huge demand of network, in the near future, there will be more and more applications based on SDN future technologies, such as the internet of energy. SDN future network is around us."
The success of the Conference was attributed to the support by leading experts both at home and abroad, with the attendance of more than 1000 people. In four major dimensions—Testing devices, Keynote Speeches, Summit Dialogues, Demonstration and Exhibitions—SDN open network industry's development and technical integration were elaborated. Meanwhile, the mainstream carriers (China Telecom, China Mobile, China Unicom), Huawei, ZTE, Mellanox, Ruijie, Jingdong cloud, PICA8, WindRiver and many other well-known vendors got together at the conference to contribute to the future network industry.