BII's CEO Liu Dong attends the 47th ICANN Open Conference
The five-day 47th ICAAN Open Conference was held on July 14, 2013. BII's CEO Liu Dong and Technical Chief Inspector Song Linjian attended the conference.
With over 1,800 insider participants, the ICANN conference extended the topic of creating "new ICANN" at the 46th conference in Beijing and initiated a five-year strategic plan of new ICANN. Meanwhile, it established some work groups to discuss the role of ICANN in the public duty framework, the identification technology innovation, the cooperation and innovation of interested parties, the ecological roles of global organizations, and the future internet management, with the hope that more regions and interested parties would contribute to the development of ICANN.
ICANN's CEO Fadi Chehadé welcomed Mr. Liu Dong and thanked BII for participating in the activities and work in relation to ICANN. Since the conference held in April in Beijing, BII has maintained a close relationship with ICANN. Moreover, ICANN has appointed IANA's Vice President Elise and the newly-elected ICANN's Vice President YC Kuek, who is responsible for Asian-Pacific affairs, to negotiate with BII in Xi'an and Beijing in late August on the specific form of cooperation and on the opportunities and challenges about IPv6 and domain nameagiants the new backdrop.
At the conference, Mr. Liu had a talk with Nii Quaynor, the "Father of African Internet", and Paul Wilson, the CEO of APNIC.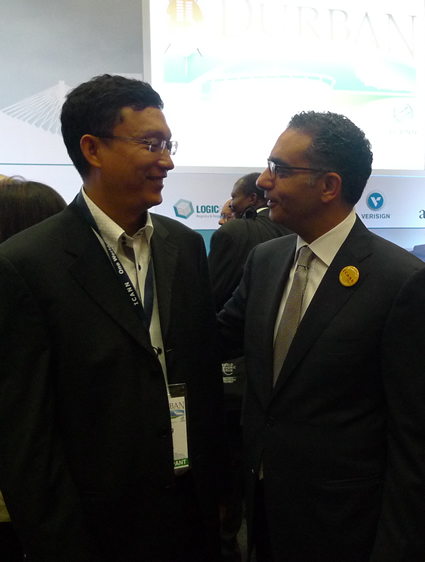 BII' CEO Liu Dong and ICANN's CEO Fadi Chehadé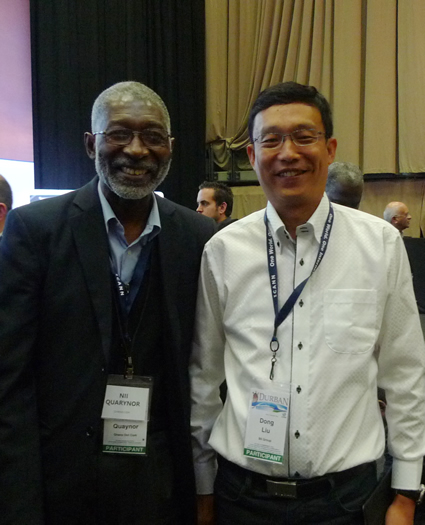 BII's CEO Liu Dong and Nii Quaynor, the "Father of African Internet"