Global SDN Technology Conference 2016 will be Held in Beijing in June
June 1 to 2, 2016, "Global SDN Technology Conference 2016" will be grandly held in Beijing. As the consecutively third annual SND/NFV technical and industrial fair, this Conference will focus on practical applications and deployment of SDN/NFV, and deeply analyse the industrial deployment status, challenges facing it and its development from multiple scenario applications, including the carrier network, corporate network, cloud data centre and test of solution plans to deeply analyse the industrial deployment status, challenges facing it and its development. Dozens of authoritative experts, senior leaders of operators and manufacturers and user unit representatives will attend the Conference to have a summit talk, and participate in authoritative testing event and technical exhibition so as to create an industrial flagship conference leading industrial development and with both breadth and extensiveness.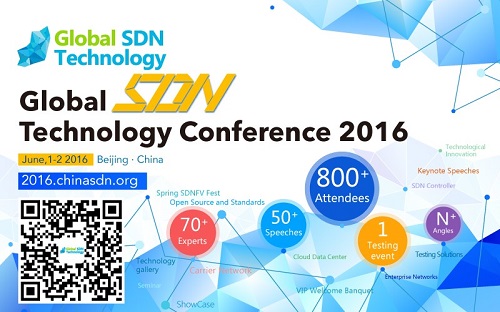 Focus on applications and explore SDN/NFV deployment practices from multiple perspectives
In recent years, with the rapid development of mobile Internet, cloud computing, big data and Internet of Things, operators, large-scale enterprises, data centres and government institutions have an increasing demand for a more efficient and flexible Internet. SDN (Software Defined Networking), a key technique in this reform, has drawn more and more attention from the industrial circles. Enterprises, operators and users have tried to conduct SDN deployment practices, leading to a sound development moment of SDN.
In order to deeply discuss the industrial deployment status of SDN/NFV, the Conference will also focus on explorations and practices of SDN/NFV from multiple fields, including carrier network, corporate network and cloud data centre, builds a dialog platform for global manufacturers, operators and Internet companies in terms of different themes and links, analyses cost saving of SDN/NFV during practices from multiple perspectives with the technique and applications, improve network performance and efficiency, and point out problems and challenges facing SDN in terms of its security.
The largest SND/NFV testing event and ShowCase in China
Before the Conference, ONF together with Global SDN Certified Testing Centre (SDNCTC) of BII Group will hold a test activity called "2016 Spring SDNFV Fest." The test event will gather dozens of units, including global operators, enterprise users, tester manufacturers and equipment manufacturers and to deploy quality test environment, meet advanced customization test demands so as to provide an integrated test, publicity and exhibition platform to verify products and solution plans from the perspective of market applications and products.
"2016 Spring SDNFV ShowCase" based on exhibition of relevant achievements of "2016 Spring SDNFV Fest" will be unveiled in "Global SDN Technology Conference 2016" lasting from June 1 to June 2. Engineers from SDNCTC and from test participating units will join hands to share the test achievements, latest test solution plans and relevant test tools. This will be the most direct and leading SDN/NFV technical exhibition space for nearly 1,000 audiences present in the Conference.
Top experts worldwide gather in Beijing to promote industrial applications
As one of the most influencing SDN/NFV platforms, "Global SDN Technology Conference" is an annual spotlight in the industry because of the authoritativeness of experts, forward-looking theme and practical content. Over the past sessions, LIU Yunjie, academician of the Chinese Academy of Engineering, Dan Pitt, Executive President of ONF, David Meyer, Board Director of OpenDaylight, Andrew Sullivan, President of IAB, David Conrad, ICANN CTO, and so on had introduced in simple terms to Chinese audiences about their latest development in terms of future network and SDN/NFV, and analysed the industrial development trend and how to lead the industrial deployment trend.
This Conference will maintain the essence of previous sessions to promote full-swing development and applications of the SDN and NFV industry through keynote speeches, themed forums, exhibitions and test activities. Besides, the Conference will invite top experts, including presidents and chief technology officers of various open-source projects, such as ONF, OpenDaylight, ETSI, ON.Lab and OPNFV, to gather in Beijing to share latest industrial and technical development, and promote ecological development of the SDN/NFV open industry.
The rapid development of cloud computing, big data and Internet of Things has made network transformation an imperative task. SDN/NFV will be a major trend of network transformation, and how to deploy its applications has become the top priority of developing the SDN/NFV industry. "Global SDN Technology Conference 2016" comes just at a right time, which will help build a sound industrial ecology and speed up the maturity and commercial applications of the SDN and NFV technique. Now, the registration system of the Conference has been fully open. Please visit http://www.conference.cn/sdnt/2016/en/ for more details.